We're at the cusp of the New Year. The change between 2020 and the hope of 2021 comes with transition–this period of in-between.
I used to hate in-between seasons. The limbo period of knowing you want to shift jobs or careers but not landing on the new/better one yet. The last few weeks of waiting to give birth. The moving in from one home to the other, not quite belonging to either one. The waiting on the "new normal" to arrive, as if it's a neat package to be handed over by a courier.
I am familiar with this space of Not Yet. It can feel like floating in the sea without an anchor. It can feel like a whirlwind. It can be unsettling.
This space also bubbles with creativity, growth, and possibility. It can be restorative. It can be meaningful. Seeing and knowing that in-between seasons have filled my life with refining and redefining moments, I'm learning to embrace and not rush through them.
We're often impatient to get to the destination. But we can savor the flight, too, depending on how decide to use our time in the clouds. Being up in the air is the necessary experience that will allow us to get that bird's eye view and orient (or re-orient) ourselves when we finally land.
In this In-Between, I encourage you to lean into all the feels and confusion, as well as the clarity and impetus it can spark. Step out of your 2020 experience for a moment, with curiosity and compassion, review your experience with the intent to learn deeply from it.
I do an annual review to transition each year. What has helped me is to do 3 things: look back at the year, anchor myself on what matters to me, and look ahead by designing the future first in my mind.
Look back. It's tempting to cancel 2020. In Filipino, there's a phrase "ibaon sa limot", which loosely translates as "bury in the forgotten". But if we step back enough, we might realize that the year was full of gems. It might have been the year that opened up situations, opportunities, relationships, even values that we wouldn't have noticed if not for the pandemic. These are the quiet, essential parts of life that are often upstaged by the things that we find "important" while we are caught up in the daily hustle. What gems are hidden in your year?

Anchor on what's matters to you. How are we doing in the different parts of our lives? This reality check requires loving honesty and courageous authenticity. Some re-alignment might be required because of the changes and growth that have happened this year. As I watch my kids grow in body (their feet grew a size or 2 bigger!) and mind before my eyes, I get curious about how I myself have grown, often unnoticed. My values have remained the same, but how I define them have been refined by the good and not-so-good experiences this year. Things have definitely shifted along the way. What has shifted for you?

Designing the future. One thing I realized this year is that my dreams for myself have been on a repeat cycle. New year, same dreams. I consciously set out to connect inward because something was telling me there was more. True enough, there was. I cannot unsee them now! What kind of dreams do you hold for yourself at this time?
Coming out of my annual review, I realize that 2020 has been a defining year. While it felt like it had taken away so much, it actually accelerated me on the things that count instead of holding me back. In some ways, the entire year was an In-Between. A Not Yet. I continue to be in-the-making as I enter 2021. The review has unlocked for me so many insights that I cannot help but integrate into my plans moving forward. And no matter what a global pandemic or crisis outside me brings, I feel and know that I am grounded inside on what matters to me so I can figure things out along the way.
In the last few days of 2020, I hope you can soak in the insight from your year, yucky parts included. May your meaningful waiting turn into meaningful progress and growth.
---
Kitty Dulay-Ferreria helps restless achievers make meaningful progress on what matters most to them. She loves working with people closely, in ways that help them grow through coaching and practical workshops.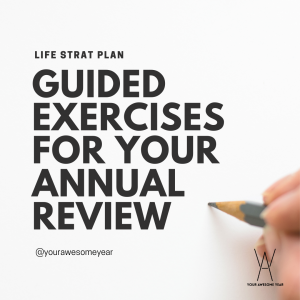 If you'd like to have some structure to your own annual review, here's access to 5 Guided Exercises I use for myself and for those I work with. This is ideally done as pre-work to the live (now virtual) Life Strat Plan workshop and helps set us up for designing our year around what matters most. But on its own, it's already packed with what you need for a thoughtful and holistic annual review. https://your-awesome-year.teachable.com/p/yay-live-workshop-prework