2020 is tough. Currently, we experience recession, unrest, and tragedy. Events have presented us with new perspectives and have pushed us to adapt to all circumstances. Despite negative odds, social enterprises continue to pursue their advocacies and innovators continue to spark change. More than ever, we need their splendid creations, offerings, innovations. As in all things, innovators cannot go at this alone. Support is crucial. 
The Spark Project continues to support enterprises and communities. With strong results, the team aims to contribute further. How? Through practicing plus promoting community spirit and through redefining enterprise. The Spark Project is a community for Filipinos to support and crowdfund projects that are creative, innovative, and passion-driven. It is a local platform that showcases projects to like-minded people who are willing to pitch in and support something compelling and worthwhile. How can enterprises harness that support? How can you raise funds and gain momentum for your own ideas and startup? To answer these and more, we share with you the team's thoughts on funding and opportunity. 
To begin this guide, there are seven (7) different access funds for an impact project or venture.
7 Access Funds for an Impact Project or Venture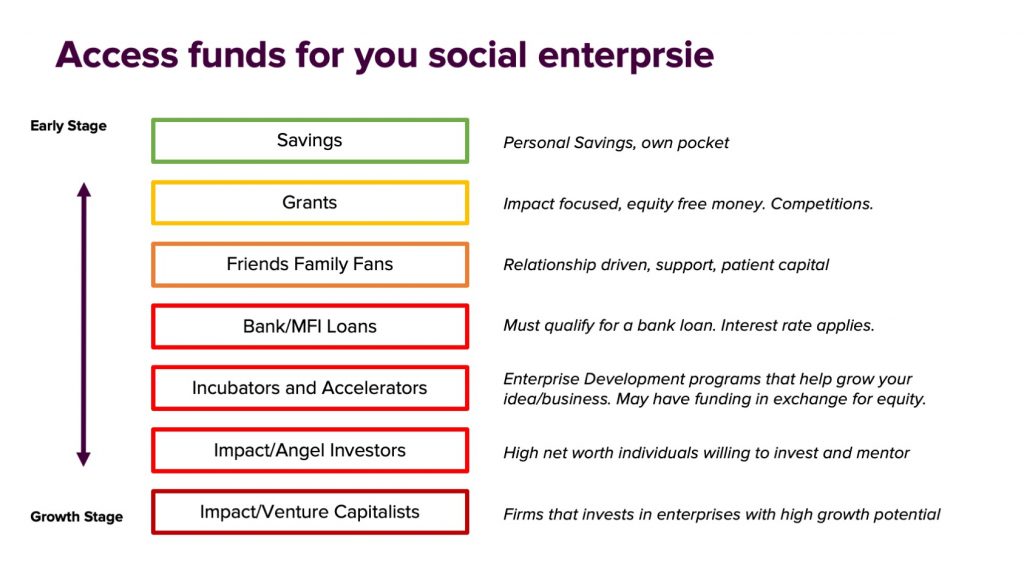 1. Savings
In the earliest stages of your enterprise, you will rely on this the most. Also, this is stage 1, the first source of funds. Savings are from the entrepreneur's own pocket. You have a very high degree of control in using this one. Take note that as you go along the seven access funds, control of use decreases. 
2. Grants
A clear advantage for social enterprises is that they can access avenues of funds that are not available to other types of businesses. This is pretty much that avenue. Grants are equity-free. These funds come from various institutions, foundations, and organizations that are more impact-focused. Funders are always looking for specific areas or advocacies (education, women, environment, etc.) to support or give funds to. Usually, a social enterprise can obtain grants by winning competitions. 
3. Friends, Family, Fans…
This third avenue of funding is driven by relationships. Entrepreneurs approach their network in order to gain funding support. They are likely to support you because they have known you for quite some time and have trust or some faith in your venture. For fans or supporters, they would likely contribute since they like your product or service offering to begin with. This is called patient capital. Why? Financing at this level can be arranged or discussed. Even if loans exist here, there's more time, more leeway, more chances of good terms. 
4. Banks/MFI Loans
Loans can be accessed if your enterprise qualifies and banks have different guidelines for this. These banks would check your capacity for paying loans and thus look at your enterprise. Collaterals are also involved here. Also take note, there are interest rates. You would need proof that you could take these on. This avenue is not for innovators or enterprises that are in the "idea-stage."
5. Incubators and Accelerators
Their focus is on enterprise development. With their help, you can grow your business. Support can either be monetary or non-monetary. To differentiate these two, incubators take in early-stage social enterprises. Starting out? With an enterprise incubator's help, your business model can be figured out and your initial concepts can be refined for smoother practice. On the other hand, accelerators are looking for enterprises who have achieved certain milestones. You can say that they are looking for established and seasoned enterprises. Accelerators serve as a way to scale. It is an avenue for enterprises to accelerate growth. 
6. Impact/Angel Investors
These are people with lots of money. In fact, they are willing to give support, mentoring, and/or funds to social enterprises that have potential. When you aim to access this avenue, these investors are attracted to the main concept of your enterprise and to the entrepreneur himself/herself. Can they provide mentorship to the said entrepreneur? Is there potential there? These investors are usually driven to give back and mentor the next generation. These investors remained in the arena for quite some time. This means they would be interested in the impact of your business and not just the profits. 
7. Impact/Venture Capitalists
These are not individuals. These are firms or groups that invest in enterprises that they find promising. With their support, they would be expecting a double ROI (Return of Investment and Return of Impact). For impact-driven ventures, what's nice to see here is that people who support social enterprises are not just after profits but are after strong impacts, good works.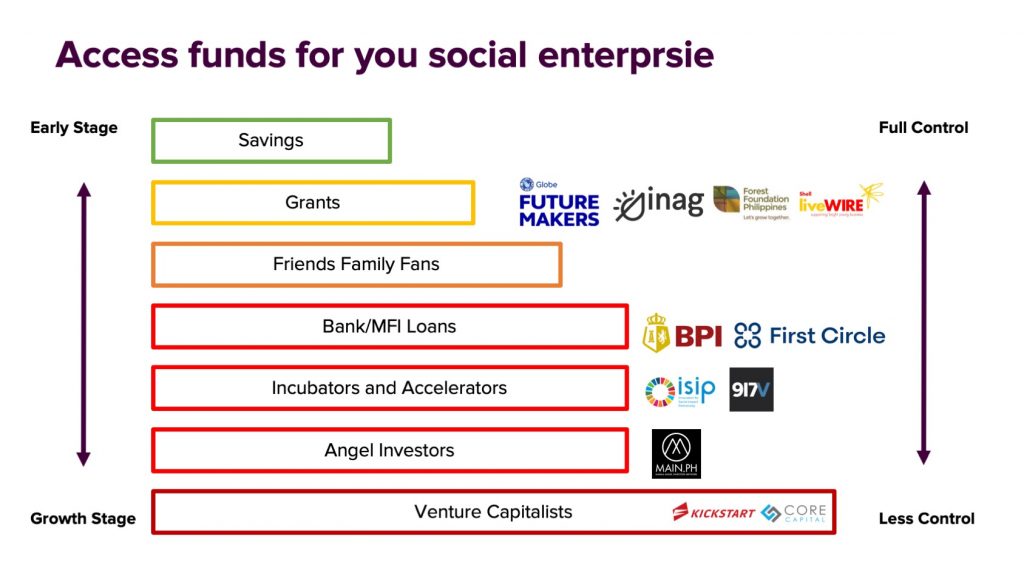 As you progress as a business, the type of funding you have varies too. Of course, you start with the funds in your own pocket. Indeed, that's limited. But, as you move up, you can access bigger amounts. On the flip side, your control of these funds lessens as you go along. It gets more expensive. At times, you would have to give up economic rights, voting rights, information rights. By this, we mean that you would have to share profits, decision-making, and info access with your investors but this all depends on the terms you establish. As you move up, you would be giving some part of your business in return. It's up to the entrepreneur to see what is worthwhile or not. Remember, funding is not just about money. It is about access to smart money. The money or resources that you may get, you can use strategically. 
What are the Opportunities in this Space? 
We notice a "missing middle" phenomenon in our local space. There is money to be invested. However, only a few enterprises fit the bill. Most big-ticket investors are looking to fund 'High Tech, High Impact" enterprises, but they have trouble in finding the social enterprises that match their requirements, thus creating this "missing middle." The large concentration of startups and social enterprises does not coincide with the large funding that is available. There is a need to connect social enterprises and funders. How can we address this? Crowdfunding proposes an alternative.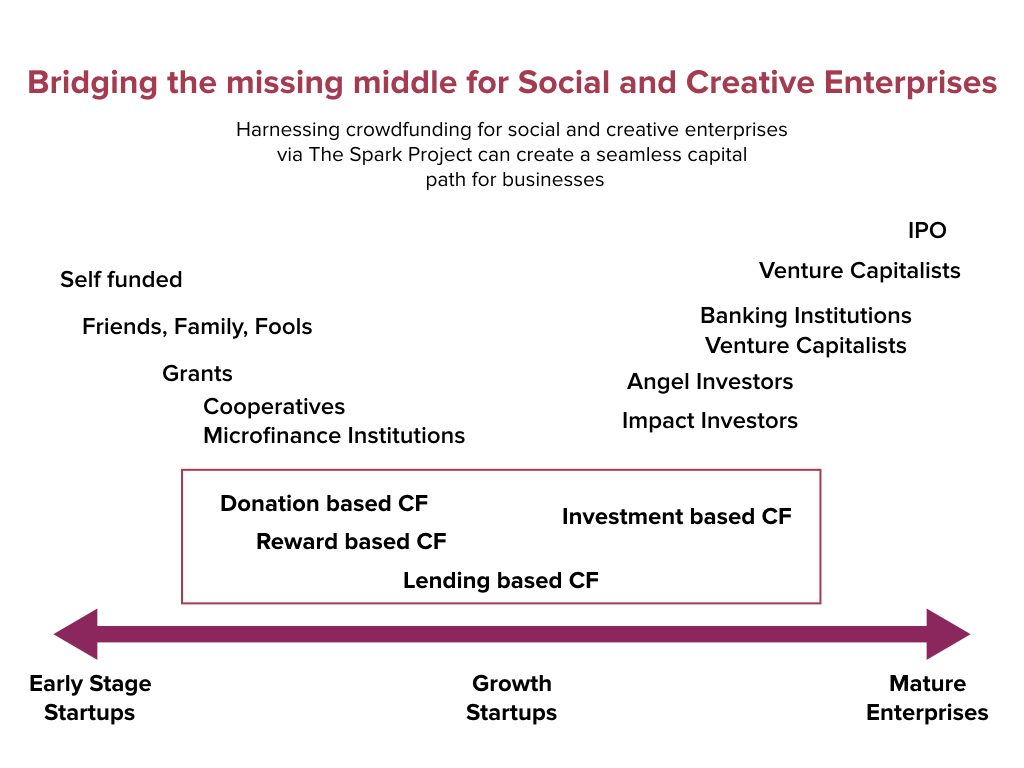 How about Crowdfunding?
Crowdfunding is pooling small amounts of money from a large number of individuals to fund a project or venture with help from social media and e-commerce. As a pioneer and witness of crowdfunding's growth in the country, The Spark Project noticed that crowdfunding changed the way entrepreneurs launch and finance their projects. Crowdfunding can cover the seven avenues mentioned above and can definitely serve as a bridge to address the missing middle. 
There are four types of crowdfunding: Donation based, Reward-based, Loan-based, and Equity-based. Donation-based crowdfunding is ideal for non-profit organizations, personal causes, and community projects. Reward-based crowdfunding is perfect for startup businesses, for early and first releases of products. It can help enterprises that are just starting out. Loan-based and Equity-based crowdfunding works for existing businesses. For the former, it's simply a loan. It needs to be paid back. For the latter, it's equity shares that you would be giving out. That means investor-supporters get some voting rights, share profits, etc. 
Crowdfunding has benefits. Crowdfunding goes beyond raising funds.  First, an enterprise can accelerate its launch through it. Second, it allows for community and brand building. Third, an enterprise gets feedback for improvement. Crowdfunding can give you exposure and connect you to other opportunities. With communities, possibilities become endless indeed. 
Keep in mind though, please crowdfund the right way. This is a public way of raising funds. Shyness and secretiveness won't work here. Next, crowdfunding is not magic. There's work involved. Actually, there is hard work involved. You have to find the crowd, win the crowd, and bring them with you.  Engage both online and offline. Avoid complacency, share your ideas, and don't be afraid of criticism. Lastly, commit to deliver. Always strive for high quality. When given an opportunity, make the most of it. 
Social Enterprises and startups are commitments. It's a rather crazy time and it's a tough road but there would always be lessons learned, communities, colleagues, and allies won over, and causes worth fighting for. For team Spark, the work goes on as well. Sparking change is well and truly worth it. 
---
More about this financing your impact, here.
Looking to level up on social entrepreneurship? Sparkability.org is The Spark Project's learning hub for creative conscious entrepreneurs ready to rise above the pandemic. Access our growing library of courses and resources to help creative conscious entrepreneurs like you thrive in the new COVID economy. Learn from experts, leaders, and fellow entrepreneurs across different industries and fields sharing practical techniques and tools that can help you bounce back from this setback.